THE ULTIMATE BIG ANIMAL
DESTINATION ON THE
ULTIMATE LIVE-ABOARD
October 16-26, 2013
SOLD OUT!
Either you have been there and you want to go back or you have never been there but always wanted to go. You know what I'm talking about. Cocos Island, which needs no introduction. It's one of the most famous shark dives in the world.
ITINERARY
You will spend 10 days aboard the Argo, operated by the world-famous Undersea Hunter Group. The Argo is the flagship of their fleet. It's 130 feet long, has it's own submersible, and has the most space and luxury of any liveaboard in the world. Hey, if we're going to do it, let's do it right. It's not really that much more expensive to go on the best boat than to go on an average boat! And this boat, for all it's size, takes only 16 guests!
EXTRA BONUS!
Pierre Séguin and I are shooting a segment about white tip reef sharks for Blue World on the trip, so you can be a part of the filming if you like. Of course we are going at prime time for hammerheads and whale sharks, hoping for lots of interactions with Mr. Big.
WHERE IS IT?
Cocos Island is a remote oceanic island off the west coast of Costa Rica. To get there, you fly to Costa Rica, take a bus ride (provided) to the marina and then a 36 hour boat ride to the island. Then dive, dive, dive!
THE PRICE
The boat holds 16 passengers and all cabins are the same price. Price is per person, double occupancy. If you don't have a roommate we will do our best to pair you up with one. The deposit is due immediately, and then no more payments are due until 2013!
$5,735.00 per person*
There is also a $245 park fee and a $60 airport transfer fee**. DAN insurance is mandatory.

PAYMENT SCHEDULE

| | |
| --- | --- |
| PAYMENT | DUE DATE |
| $1,000 deposit | Upon booking |
| $2,000.00 | 1/1/2013 |
| Final Payment: $3,040.00 (includes park fee and airport transfer) | 7/1/2013 |
Note that once the deposit is made, nothing else is due until 2013.
Check out this video made by Howard Hall.
* From Undersea Hunter group: Due to the possible increase in the cost of diesel, based on events in the past few years, the Undersea
Hunter Group reserves the right to charge a US$200.00 per person Fuel Surcharge. This fee will be effective in the event that the diesel price published by Costa Rica's state owned refinery, RECOPE, reaches US$3.80 per gallon (US$1.00 per liter). We will verify the fuel index table 75 days prior to the departure date and if it is necessary to collect a fuel surcharge then we will inform the participants of the trip. The surcharge will be collected on board.
** We recommend that you fly to San Jose via direct flights from Los Angeles, Miami, Houston, Dallas or other gateway cities. Keep in mind that you can encounter delays or luggage problems when making connections, and it is never a bad idea to bring an extra set of clothes and basic items in your hand luggage, as well as plan to arrive a day early to allow lost baggage to catch up. You must arrive at least one night prior to the departure date and we strongly recommend staying one night after the return, in case of any unforeseen delays.
Upon arrival to San Jose, you may take a taxi to your hotel. There are always taxies available at the airport, even minivans for those of you who carry a lot of gear. An Undersea Hunter/Fiesta Tours representative will inform you at your hotel the night before departure of your pick up time to go to the vessel the next day. Please note that we do not pick up from all San Jose hotels to go down to the vessels. The evening is at your leisure. Hotel nights and meals before and after the cruise are not included in the charter.
The following day, generally between 8 AM and 1 PM, you will be picked up from your hotel and transferred by Fiesta Tours to Puntarenas, the seaport village where you will board the vessel. The drive takes about 2-1/2 hours and gives you a chance to view the lush tropical forest and rich farmland of the region. On the way there will be a stop for a snack or lunch. The price of this meal is not included in the price of the trip.
When all passengers are boarded, the vessel will take a 32-36 hour cruise out to Cocos Island. Although at most times the cruise to the island is calm, precaution against motion sickness is advised. At the end of the trip you will cruise back to Puntarenas and be transferred by bus to your hotel in San Jose.
SCHEDULE
• Everybody should arrive to San Jose, Costa Rica no later than Oct. 15.

• On Oct. 16 we pick up your group from the hotel(s) and drive down to the Argo. The pick-up time will depend on the time of the high tide on Oct. 16, I will advise you when the trip is much closer.

• On Oct. 26 everybody departs the Argo at 8.00 AM and are transferred back to San Jose. Despite the early hour we strongly recommend everybody stay at least one more night on land, so Oct. 27 in this case, in case there are any unexpected delays. With that being said, unexpected delays are highly unusual, so let me know if somebody wants to fly out on the afternoon of Oct. 26. Generally that is not an issue, but it is important that you are advised that if there is any delay which causes you to miss an Oct. 26 flight then we cannot be responsible for any extra fees they might incur.
PRICES FOR DIVES IN SUBMERSIBLE
Single dives (1 seat) reserved onboard or in advance:
• Dive to a maximum depth of 330 feet: $1,200
• Dive to a maximum depth of 700 feet: $1,600
• Dive to a maximum depth of 1000 feet: $1,800
To guarantee a spot on the submersible, these reservations need to be confirmed in advance!
I hope to see you on this amazing expedition! Questions? Drop me a line.
DAN insurance is mandatory for all divers on this trip. In my opinion, you are crazy not to have DAN insurance. It's the best $35 you will ever spend as a diver.
Read the JBDA Frequently Asked Questions...
More trips with Jonathan....

Cocos Island!

The Argo is one of the best live aboard dive vessels in the world--130 feet long and pure luxury!

Rides in the sub to over 1,000 feet are extra cost, but the sub is there if you want to do it!

A Cocos sunset.

Large cabins!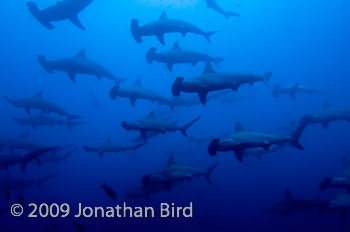 Hammerheads await.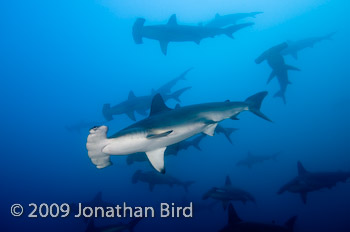 More hammerheads!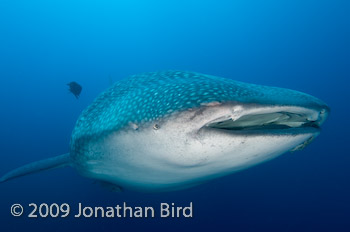 Did someone say whale shark?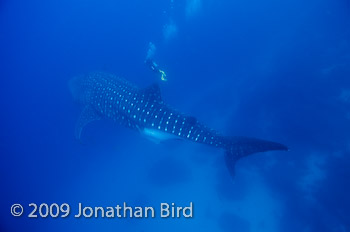 Yeah, they are big. You know you want to swim with one!