Assignment Photography/Cinematography
Jonathan has a hard-earned reputation for getting the job done well, on time, and on budget. With budgets shrinking and location costs being the way that they are, the difference between getting the shots and not getting the shots often comes down to having the skill to do it right the first time. Whether it's cold arctic water, warm tropical water or somewhere in between, Jonathan has worked in nearly every underwater environment under all kinds of conditions and has the experience to deliver results consistently.
Jonathan has worked on assignment as a still photographer for dozens of magazines and catalogs, and as a cinematographer for television networks and production companies. He has three Emmy Awards for his television work.
Jonathan recently completed shooting a half-hour special for National Geographic Television's series Extreme Exposures which will be released in 2010. Jonathan was the director of photography and the field producer for the entire program.
He was hired to shoot underwater video sequences for CNN's coverage of the JFK Jr. plane crash in the cold and murky Atlantic Ocean near Martha's Vineyard in 1999. His work has appeared on nearly every major television network in the U.S., including PBS, ABC, and Discovery Channel, as well as networks across the globe. Several of his underwater documentaries have aired in over 20 countries including England, France, Germany, Italy, Japan, Canada, Australia, China and many more. He is frequently found traveling the world, working on assignment for production companies, networks and advertising firms. You can view his demo reel on-line here. Jonathan recently completed production on Sharks: Deep Trouble for National Geographic Channel, an hour-long documentary that he produced. Why mess around? Hire the best!
He is a regular contributor to Sport Diver Magazine and Alert Diver Magazine. His most recent magazine assignments were to Fiji, the U.S. Virgin Islands, St. Vincent and St. Kitts for Sport Diver.
As an example of his photography, check out Beneath The North Atlantic. This coffee-table book features images shot under some of the most hostile conditions for underwater photography--the cold, murky waters of the North Atlantic Ocean. Jonathan also has photographed seven other books. You can see a slide show of some of his on-line images too.
No matter what the assignment is, if it's underwater, give Jonathan a call!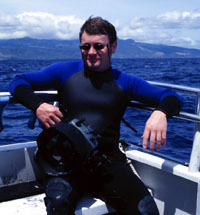 Jonathan is also available for speaking engagements and slide presentations.
DOWNLOAD Brochure (1.1 Mb)