REVIEWS
"In this excellent book, the author's fascinating text describes the biology and behaviour of a selection of marine life.... The text, however, is but an accompaniment to a series of striking and outstanding colour photographs which I would rank as among the best of marine life that I have seen in any book. The extraordinary living colours and bizarre appearance of many of these marine denizens are strikingly portrayed. This book will appeal to all with an interest in marine biology and is worth its price for the pictures alone."
-Bryan Sage
Country Side
The Official Journal of the British Naturalists' Association
"Jonathan Bird's photos of North Atlantic marine life are stunning in this intelligent and information-packed text."
-Richard Tambling
Journal Inquirer
Hartford, CT
"...this attractive introduction to the marine biology of the North Atlantic is approximately one-third text and two-thirds beautiful color photos...This volume contains more factual information on marine biology and less technical information on diving and underwater photography than Norbert Wu's Splendors of the Seas. An attractive addition to general collections, especially those serving young people contemplating a career in marine biology."
-Library Journal, April 1, 1997

"North Atlantic divers--or those who've moved away and miss it--won't want to miss Jonathan Bird's Beneath the North Atlantic. Nice...coffee-table-size book that really made me homesick for those good ol' cold northern waters. Great photography and plenty of interesting little facts about my once-home waters."
-Gary P. Joyce, Editor
Sport Diver Magazine
"This book explores the marine life of the Atlantic coast of America in 160 landscape pages of excellent colour photographs and text. The book is a coffee-table introduction to the cold Atlantic waters rather than a comprehensive identification guide and academic text.
"However, there are lots of interesting snippets of information, including the introductory page on Latin, and Greek, names, with some notes on pronunciation, which everybody should know, but many do not. The same applies to the Glossary, which is not comprehensive but has many inclusions that are left out of popular books and is all the more interesting because of this.
"The text goes into remarkable detail including information about the normal visibility distances, and why this is so restricted. The numerous and excellent colour photographs are all clear enough for identification and beautiful in their own right.
"British readers will be pleased that there are species found on the other side of the Atlantic that are found in the seas surrounding the British Isles."
-British Marine Life Study Society
Sussex, England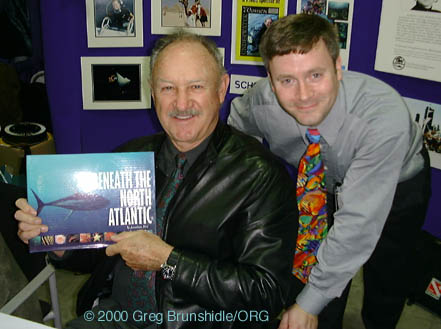 Gene Hackman shows off his newly signed copy of Beneath the North Atlantic with author Jonathan Bird. Check out that tie!
You can order from Jonathan with a credit card through PayPal, a credit card service bureau. It's fast, secure and reliable. $19.95 plus shipping. PLEASE NOTE we do not ship internationally. International shipping on books is extremely expensive. Shipping to the USA only.